Join the Team!
If you are interested in joining the team, come to our Intro Day on September 13th at 3:00pm at the workshop! The week of September 16th - 20th, our shop will be open every day Monday - Friday for NarWeek, to give members a more extensive introduction to the team and what we do. On Intro Day, each of our five divisions (Mechanical, Controls, Business, Marketing, and Strategy) will be giving a brief introduction of what they do. After Intro Day is NarWeek, where every day we will dive headfirst into all that FRC has to offer, looking at all of the aspects of our team and how our departments work together to make Team 3128 run as best as it can.
That said, do not worry if you are joining the team after Intro Day and NarWeek! Simply stop by the workshop on one of our meeting days (Mondays, Thursdays, and Fridays after school), find one of our student leaders or mentors, and we will get you started on everything you need to know.
The process for getting registered with the team is currently being updated, and we will walk you through how to do it once robotics starts back up for the 2019 - 2020 season. The steps for registration will be available in September.
Finding the Workshop
Our Workshop is located right under the Learning Commons. You can see where our workshop is on this map. There are two ways to get to our workshop:
From the school. Take the stairs between the B building and the Learning Commons towards the Admin Parking Lot. Our workshop is just past the Nest on the right side of the gate.
From the Admin Parking Lot Our workshop can be accessed by enterring the large concrete sidewalk just right of the Administration building.
Growing Your Skills
After you've signed up, there are lots of different ways to grow your skills: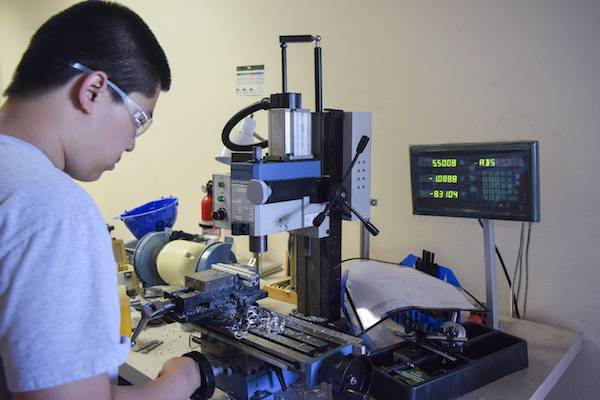 Learn your way around the workshop. Through various talks and hands-on explanations, mentors and students explain how to use various tools and the various procedures of the team.
Attend Workshops and Classes, Throughout preseason, our members and mentors will be giving lessons and working with new members to help them learn more and be ready for build season.
Be Involved. Often, the best learning experience comes with jumping right into it. With the guidance of more experienced mentors and members, pursue projects and participate in what interests you.
Take a look at our team resources. Our team has collected information that we think is important, and you can find all of that on our resources page.
If you have any scheduling/team questions, you can also check out our Frequently Asked Questions page.